The European Centre is a UN-affiliated intergovernmental organisation based in Vienna. It is registered as an association under Austrian Law (Register of Associations ZVR 583470062).
Research activities within the Centre are organised into two larger units, the Work and Welfare Unit and the Health and Care Unit.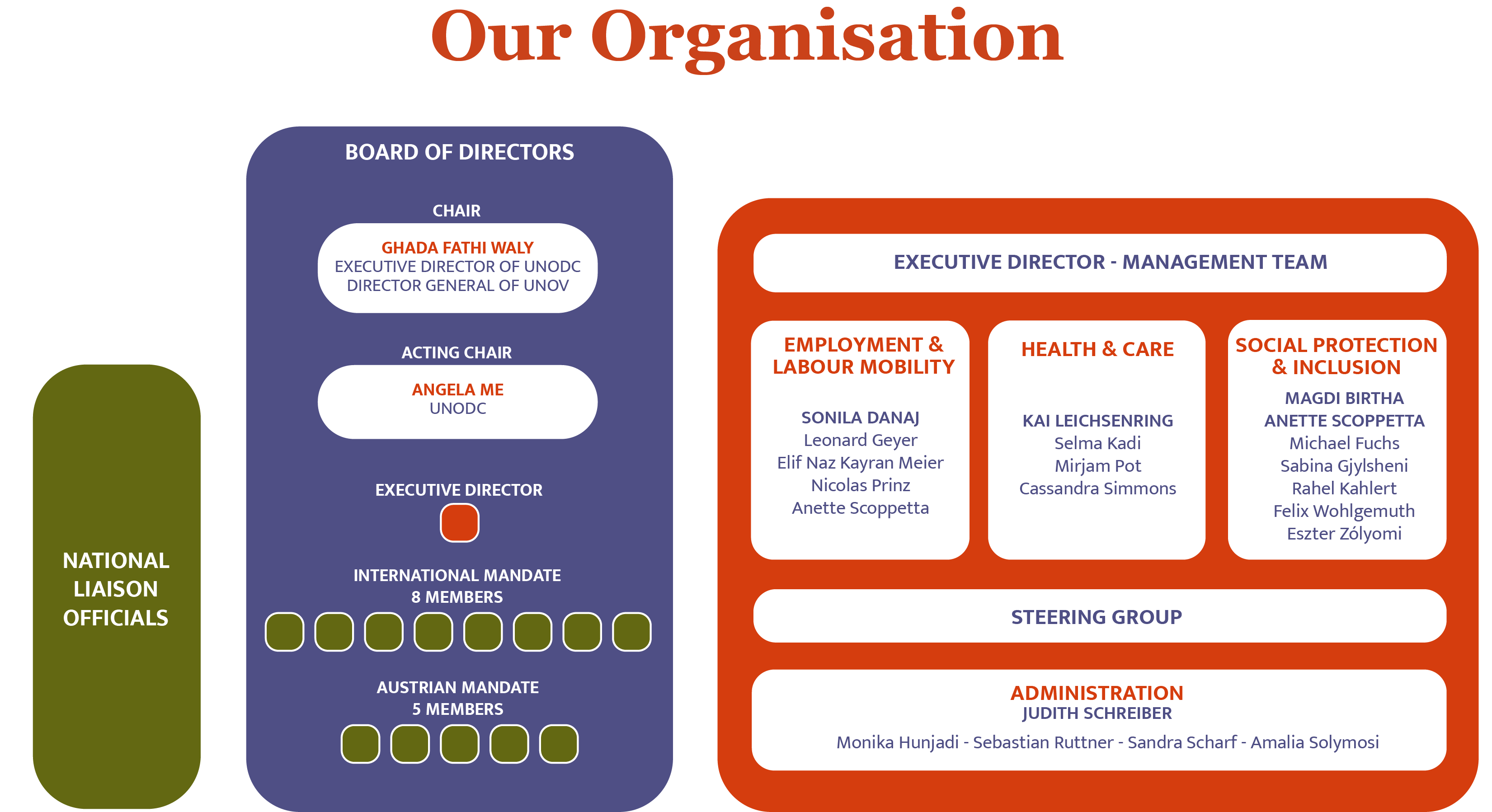 Chair
Yury Fedotov, Director-General, United Nations Office at Vienna (UNOV), Vienna International Centre
Acting Chair
Ms. Angela Me, Acting Chair of the Board of Directors, United Nations Office on Drugs and Crime (UNODC), United Nations Office at Vienna (UNOV).
Board of Directors
The Board is convened annually at the initiative of the Chair. It considers all matters of the Centre relating to the previous year's activities and the activities scheduled for the coming year.

The European Centre's Board of Directors consists of
up to nine members appointed by the Secretary-General of the United Nations
up to six members appointed by the Host Government
the Representative of the Secretary-General of the United Nations, normally the Director-General of the United Nations Office at Vienna (UNOV), who is the Chairman of the Board
the Executive Director, who is ex officio a non-voting member of the Board
The Board Members appointed by the Secretary-General of the United Nations are nominated and appointed as (i) experts in the field of social welfare and development, (ii) nationals of States, other than Austria, collaborating with the Centre, and (iii) representing countries at different stages of social and economic development.
Austrian mandate
Federal Ministry of Labour, Social Affairs, Health and Consumer Protection - Bundesministerium für Arbeit, Soziales, Gesundheit und Konsumentenschutz (BMASGK)
Susanne Keindl, Board Member
Georg Reibmayr, Board Member Alternate
Marc Pointecker, Board Member Alternate
Andreas Schaller, Board Member Alternate
Manfred Kornfehl, Board Member Alternate
Federal Ministry of Education, Science and Research - Bundesministerium für Bildung, Wissenschaft und Forschung (BMBWF)
Matthias Reiter-Pázmándy, Board Member
Bettina Glaser, Board Member Alternate
Vienna City Administration, Department 24 - Health Care and Social Welfare Planning - Magistrat der Stadt Wien, Magistratsabteilung 24 - Gesundheits- und Sozialplanung
Susanne Guld, Board Member
Federation of Austrian Trade Unions - Österreichischer Gewerkschaftsbund (ÖGB)
David Mum, Board Member
Austrian Federal Economic Chamber - Wirtschaftskammer (WKO)
Christa Schweng, Board Member
International mandate
Israel
Ministry of Labor, Social Affairs and Social Services - State of Israel
Renee Techelet, Board Member
Poland
Ministry of Family, Labour and Social Policy
Elzbieta Bojanowska, Board Member
Ewa Chylek, Board Member Alternate
Slovenia
Ministry of Labour, Family, Social Affairs and Equal Opportunities
Davor Dominkuš ✝, Board Member
Spain
Institute for Older Persons and Social Services - IMSERSO
Manuel Martínez Domene, Board Member
Manuel Montero Rey, Board Member Alternate
Sweden
Ministry of Health and Social Affairs
Tony Malmborg, Board Member
Switzerland
Federal Social Insurance Office
Sabina Littmann-Wernli, Board Member
National Liaison Officials
The key link between the European Centre and its Member States are the National Liaison Officials (NLOs). The NLOs act as intermediaries representing both the interests of their nations within the European Centre as well as those of the European Centre in their countries. They may be officials of the Ministry responsible for social welfare or recognized experts. The NLOs and the European Centre jointly collaborate for the effective exchange of experiences and cross-national project development.
For further information on our current NLOs, please contact Monika Hunjadi.