Highlight
Bridge Building in the Spotlight
Training on the topic of ageing and long-term care to the Ministry of Social Policy of Ukraine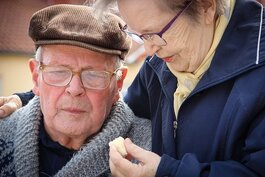 On 15 and 16 December 2021, our colleagues, Kai Leichsenring, Magdi Birtha, and Veronica Sandu provided a training on the topic ageing and long-term care, as part of the Bridge Building Peer Reviews and Trainings project. The training was attended by almost 20 participants, including government officials from the Ministry of Social Policy of Ukraine, as well as by actors from regional authorities, researchers and civil society representatives, who are working on improving long-term care policies and developing social services for older people with care and support needs.
Free videos with practical guides for posting companies
The POW-BRIDGE team produced video podcasts in the form of practical guides for posting companies in the eight project countries. You can access the videos in local language with English subtitles for free on VIMEO:
And also as a playlist on YouTube.
Publications
POW-BRIDGE: Project Newsletter 3
The latest news on the POW-BRIDGE project can be found in its third and final Newsletter. Here, partners present the deliverables of the project, namely the eight policy briefs published in both English and national language, the
more
EESPN newsletter: December 2021 issue
We issued the EESPN newsletter December 2021 issue. We highlight the first BBinar on Social spending in times of Covid-19 and POW-BRIDGE free videos with practical guides for posting companies. Additionally, we feature news from the region, calls,
more
Upcoming & past online events
Christmas wishes