Research in the time of COVID-19
The end of "Active Ageing"?
The concept and policy framework for active ageing turns twenty next year. Will this anniversary be an occasion to celebrate the achievements of international actions on ageing? Or will it become just another occasion to reflect on "uneven progress" in advancing towards a society for all ages – a goal set also twenty years ago by the Madrid International Plan of Action on Ageing? Alexandre Sidorenko, Senior Adviser at the European Centre, argues that, as of today, in the midst of the COVID-19 crisis, the latter scenario seems the most plausible.
Highlight
Key findings on the use of formal and informal care in Slovenia and Austria
In Det_Caremix: Determinants of use of care in Slovenia and Austria, we compared two familialistic countries which rely heavily on the family in long-term care (LTC) provision. Key findings include:
4 different pathways into caregiving that are influenced by reciprocal exchanges in the family, parallel life transitions (e.g. divorces, retirement), accumulation of disadvantages and the life trajectories of siblings.
Ideals of care among dyads practicing a care-mix in Austria reflect a strong role for the family but go beyond this and include e.g. involvement of care users in decision-making
Different types of unmet needs of care users as well as needs of informal carers exist despite the combination of informal and formal care. These pertain to how care is provided (e.g. timing of care, quality of care) and the possibility to develop caring relationships.
Familialistic long-term care systems reinforce gender and socio-economic inequality in care provision and use, and we found no evidence that generous cash benefits have a sizeable effect in counteracting such inequalities
Higher socio-economic position for both households and individuals confers more choice with respect to care arrangements
Informal care provision interacts with other public policies, namely increasing statutory retirement age, although this interaction depends on carers' socio-economic position.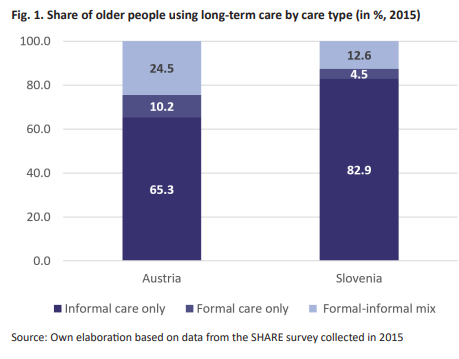 Our policy briefs on the balance between formal and informal care provision, on gender and income inequalities shaping service use and on unmet care needs for long-term care provide further information on results (also in German).
Posting of Workers Directive's interplay with national regulations
In the frame of the POW-BRIDGE, we have conducted eight case studies and published eight country reports on Austria, Hungary, Italy, North Macedonia, Poland, Serbia, Slovakia, and Slovenia. The country reports present how the Posting of Workers Directive interplays with national rules and regulations on social security, health insurance, temporary agency work, and company law. They identify existing gaps in implementation and practice from the perspective of public authorities, social partners and employers and provide recommendations on how to address these gaps.
New projects
New publications
Upcoming & past online events