Highlight
Risk and preventive factors in juvenile delinquency studies
Interventions shall address several social institutions that can influence the life-course of young people. As young people tend to drift and shift between different social environments there are a number of opportunities to initiate turning points in family life, at school, in sport clubs, and in the local community.
Source: Stummvoll 2021
Interventions should be designed with creativity to
establish a strong attachment with positive role models
elaborate social programmes that allow juveniles to be committed to an accumulation of achievements in life
involve young people in meaningful activities other than "hanging around"
influence their moral convictions that guide their actions.
Social programmes need to make an offer in various local settings such as schools, sports, music, religion, arts and craftwork to support adolescents to better cope with stress, status frustration and stigmatisation. Read more
Bridge Building in the Spotlight
First of two virtual Summer Schools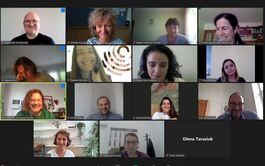 The European Centre hosted with great success the first virtual 2021 Bridge building (BB) Summer School on Evaluation in Social Policies, on 25-27 August. 13 participants from the 'Bridge building' region, like Albania, Azerbaijan, Bosnia and Herzegovina, Kosovo, Moldova, North Macedonia, as well as Ukraine, and European Centre staff exchanged and enhanced knowledge in commissioning and conducting social policy-oriented monitoring and evaluation projects and programmes. We are looking forward to staying connected through the EESPN. The European Centre team is looking forward to welcoming the participants for the second 2021 BB Summer School, on 22-24 September 2021. Check it on the EESPN here
Publications
EESPN newsletter: November 2021 issue
We would like to introduce the November 2021 issue of the EESPN newsletter. We feature new projects, calls & publications on new social policy measures relevant to the Bridge Building (BB) region. Read more
more
Upcoming & past online events