Preliminary evidence from the Austrian construction sector
Leonard Geyer, Sonila Danaj and Anette Scoppetta
The posting of workers describes a process by which companies and temporary work agencies send employees from one EU Member State to another to provide a service in that country for a specific period of time based on dedicated EU Directives. Meanwhile, posted employees remain covered by and pay contributions to the social security institutions of their home country.
Posting has seen a sustained increase within the EU over the past decade, with the number of posted workers rising from approximately 1 million in 2010 to 1.8 million in 2018. Preliminary findings of our Con3Post project indicate that there has also developed a trend of posting third-country nationals – that is, the posting of non-EU nationals through a company based in one EU Member State to work in another EU Member State – in recent years. One example for this is the posting of construction workers from Western Balkan countries like Bosnia and Herzegovina, Serbia and Kosovo via Slovenia to Austria and other EU countries.
COVID-19 countermeasures in Austria
In response to the virus, the Austrian government mandated a shutdown of all non-essential businesses by March 16, 2020 and introduced strict travel restrictions. Travel to Austria is only permitted with a negative COVID-19 test, which must not be older than four days. Austrian citizens and individuals regularly residing in Austria are exempted but must self-quarantine for 14 days after entering the country. Workers posted to Austria are not exempted from these travel restrictions.
According to a research brief of the Austrian Institute for Economic Research (WIFO), COVID-19 and the government's countermeasures resulted in the strongest decline in employment in Austria since the winter of 1952/1952, with 200,000 individuals losing their jobs in the first two weeks of the lockdown and 600,000 more applying for short time work programmes. Compared to last year, the decline in employment was the strongest in gastronomy and hotel trade (-41.2%), other business services including temporary work (-12.2%), and construction (-10%).
Foreign nationals were among the most affected by the crisis. Employment among foreign workers decreased by 10.5% compared to 3.4% among Austrian nationals. Employment among cross-border commuters (here, individuals residing outside Austria and working in Austria) declined by 14.9% compared to March 2019. The number of posting notifications (so-called ZKO3 forms) submitted to the Austrian financial police – employers intending to post workers to Austria must submit so-called ZKO3 (posting) forms to notify the financial police in accordance with the Article 19 Paragraph 3 of the Austrian Act to Fight Wage and Social Dumping (LSD-BG) – also decreased from 17,735 in March 2019 to 9,560 in March 2020 (-46,1%; see table below). In construction, the decrease was even stronger: from 5,208 to 2,438 (-53,2%). The decline in posting notifications is significant but the numbers are likely to still understate the reduction in posting activity. The notifications must be submitted prior to posting and hence show envisaged rather than actual postings. Many workers for whom notification was submitted in late February or early March may not have entered Austria after the travel restrictions were put into place.
Figure 1: Postings to Austria (Number of submitted ZKO3 forms)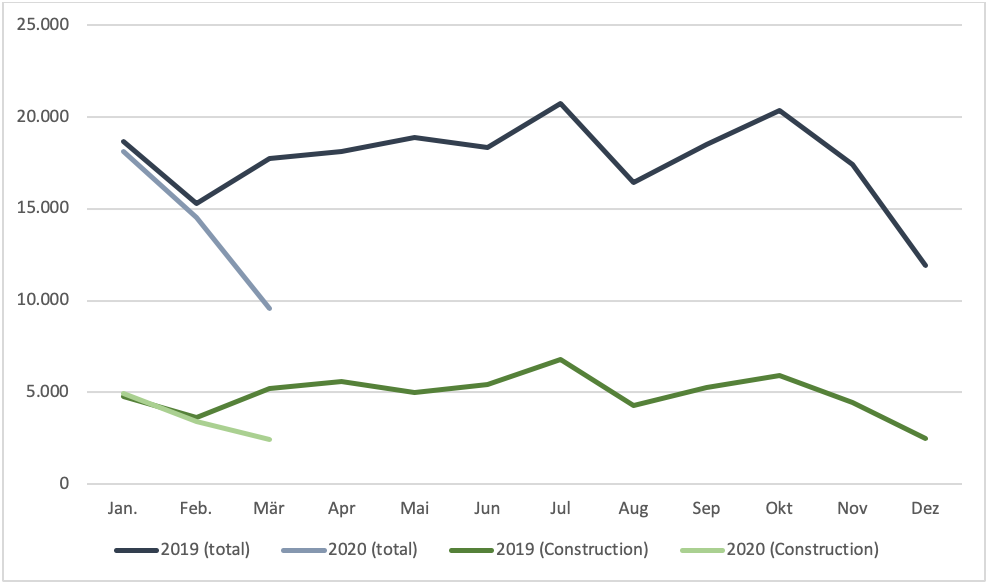 Source: Data provided by the Austrian Financial Police
The situation in the construction industry
The impact of the pandemic was immediate in the construction sector. Most construction sites were closed in response to the shutdown initiated on March 16. Eleven days later, on March 27, the social partners in industry agreed on an 8-point plan to ensure the health and safety of construction workers. The plan includes rules on the wearing of masks, measures of personal hygiene, the regular disinfection of tools and physical distancing at work, during transport to and from work sites and in the sleeping quarters of construction workers. In addition, large construction sites and sites where more than one company is operating need to assign a construction site coordinator in charge of implementing the COVID-19 related safety measures. The rules apply to all companies active onsite including subcontractors and suppliers.
Since the plan was agreed, work has resumed on most sites and Albert Scheiblauer from the construction sector trade union GBH, Gewerkschaft Bau Holz, is carefully optimistic that the crisis hit the construction sector less than other sectors, such as tourism where an upward development is still not to be seen. Some efforts have also been made to make it easier for construction workers living abroad to continue working in Austria and be able to comply with the mandatory 14-days self-quarantine rules. For example, in tunnel construction, GBH and employers have agreed to adjusted periods of work time for workers living outside Austria. Instead of typical weekly rotations of the workforce (Dekandensystem), posted and other cross-border workers can now work for four weeks followed by a two-week break back home. Actions to restore worker mobility have also been taken on the European level. On March 30, the European Commission recommended that EU countries should allow frontier and posted workers to continue crossing their borders to their workplace if work in the sector concerned is still allowed in the host Member State.
These efforts may already have an effect. According to Scheiblauer, there is also some evidence that construction workers from Slovenia and Hungary have been returning to work in Austria since the construction sites reopened.
Posted workers' OSH vulnerabilities before and during the pandemic
In our research on the occupational safety and health (OSH) of posted workers in Austria, we found that despite the efforts of the public authorities and social partners to address risk factors, posted workers still face a number of OSH risks that make them more vulnerable than other workers. Lack of OSH training, lack of proper knowledge and awareness of their labour and social rights and language barriers hinder posted workers' ability to be properly protected in the workplace. In addition, it is quite common for these workers to work longer hours and, because of their dependence on the employer, take less or no time off in case of illness and injury. This is more the case for third-country nationals posted from one EU country to another. We also observed a degree of negligence towards OSH protection measures by employers and workers themselves, attributed to the temporary nature of their posting assignment and the urgency to finish the work in the shortest possible time. Not aware of their rights, posted workers, thus, have often been exposed to the risk of abuse.
In the current public health crisis, it is therefore important to ask what happened to posted workers in Austria when the lockdown began and whether those continuing to work can do so under safe conditions. The most immediate questions, therefore, are:
What happened to workers who were posted to Austria when the crisis began?
Do posted workers who continue working receive adequate work and safety protection at the workplace?
What will be the effect of the COVID 19 crisis on posting?
The reported statistics suggest that most posted workers lost their posting assignments and with that, potentially their jobs. Unfortunately, it is difficult to collect information on the situation of posted workers because there are few support organisations for this group and posted workers themselves often do not immediately contact the existing services. However, the situation of foreign nationals regularly employed in Austria gives some indication for the posting sector. The Chamber of Labour (Arbeiterkammer – AK), which provides counselling services to individuals employed in Austria, received several inquiries by foreign nationals, mostly working in the hospitality sector, who were laid off at the start of the crisis. According to Walter Gagawczuk from the AK, the inquiries related primarily to access to unemployment benefits and individual disputes with employers over outstanding wages. Further, many workers returned to their home countries after being laid off and were concerned that travel restrictions would prevent them from returning to their jobs in Austria when the lockdown within Austria is lifted. Posted workers cannot claim unemployment benefits in the receiving country and problems with unpaid or underpaid wages are widespread. Further, posted workers are already often vulnerable and highly dependent on their income. All this suggests that workers posted to Austria at the beginning of the crisis may have ended up in precarious situations.
In terms of safety in the workplace, according to Albert Scheiblauer, the additional safety procedures negotiated between the GBH and employers are being implemented reasonably well. Disinfectants and masks are used where necessary and construction workers are either housed in individual rooms on the construction site or in single rooms in hotels. So far, the union has not received complaints about inadequate safety procedures or inferior protections for posted workers compared to regularly employed individuals. At the same time, the lack of language skills, personal networks and knowledge of national legislation, which makes posted workers more vulnerable to exploitation and unhealthy working conditions, also means that their vulnerable position might continue to go unnoticed. In our research, inadequate OSH measures were often noticed only in case of severe workplace accidents where workers needed extensive care.
More data is required before a clear picture can emerge on the current scale of posting and on how employers are enforcing the new health and safety measures. Building on the expertise developed through several past and ongoing research projects in the field of posting (POOSH, EEPOW, Con3Post, POW-Bridge), we at the European Centre will continue our research to reach a better understanding of posting developments and to inform evidence-based policy-making.
It is yet too early to predict the full impact of COVID-19 on posting. Posting is a common form of sub-contracting, which in itself is vulnerable to business cycle fluctuations. It is unclear how long it will take for individual EU Member States to overcome the pandemic. Yet, several Western European countries have introduced exceptions to labour mobility for workers in essential industries, such as seasonal agricultural workers or care workers. In other sectors, such as in the example of tunnel construction, countervailing forces are already in place trying to mitigate negative impacts of reduced cross-border labour mobility. These developments suggest that there continues to be a high demand for workers from other countries and that, once travel restrictions are lifted, cross-border labour mobility in the European market including posting will recover.
However, during this crisis, workers found themselves in a more vulnerable position than before. Many likely realized how insecure their employment really is, how easy it is to lose one's job, and how more vulnerable they might become. A different light has been cast also on safety at work, with two diverging implications: that of the importance of protecting oneself in the workplace, which now is more strongly juxtaposed to the paramount importance of securing one's employment, perhaps at the cost of one's safety. That is why information and monitoring on the rights and obligations for both firms and posted workers are more necessary than ever before.